Our client, an international streaming challenger runs marketing campaigns across 10+ different channels, both online and offline. 
They wanted to understand what tactics contribute to an increase in sales and the relative effectiveness of these channels. They also wanted to evaluate budget allocation going forward. However, this gave rise to a few common challenges. 
Attribution solutions that rely on trackers like cookies or device identifiers were not an option, since a substantial portion of the marketing budget was allocated towards non-digital channels like TV and out-of-home. With the move towards a more privacy-centric future spearheaded by Apple's latest updates, digital media has also lost credibility.
💡 The Solution: Twigeo next-gen MMM

For inputs: The client runs over 10 different marketing channels across multiple geos (naturally, a lot of data has to be collected). Due to our data pipelines, the digital channel inputs were already available within our data warehouse, enabling us to easily structure and group these networks by sub-channels or tactics. Offline marketing spend was to be collected with outstanding factors, like promotions or big releases.
For modeling: Twigeo uses a wide range of statistical models to find the most accurate one for the client. One of the models is based on the work we have done together with Meta. 
Given the high complexity of this client we found more success with our own proprietary MMM, leveraging priors to "hand-hold" the model. 
Apart from the inputs, things like saturation (diminishing return), lag effect (prolonged impact an ad has on users) and external factors (a pandemic) was also added to the model.
Model output:  The model output was first interpreted by our data science team to make sure the result could be trusted with a high level of statistical certainty. Once the model was approved, the Twigeo analytics & marketing team interpreted the results to make it understandable and actionable.
🚀 Let's deep dive further into the results
Overall contribution to sales of paid marketing efforts
Lower cost per sale as measured by MMM vs. publisher data
Marketing drives true impact
With the MMM, we were able to show that over 50% of all sales were driven (caused) by marketing and would not have happened without these marketing efforts.
Whatever you've heard about online and offline marketing efforts in Sweden is true…they largely contribute to generating incremental sales and see more efficient acquisition costs in comparison to other digital ad networks. 
Based on the recommendations of MMM, Twigeo and the client's marketing team moved media budgets from less efficient channels to more efficient ones. As a result, increasing revenue without increasing budget. These budget changes are evaluated again with the next iteration of the model, to validate that the changes had a real impact on growth and efficiency.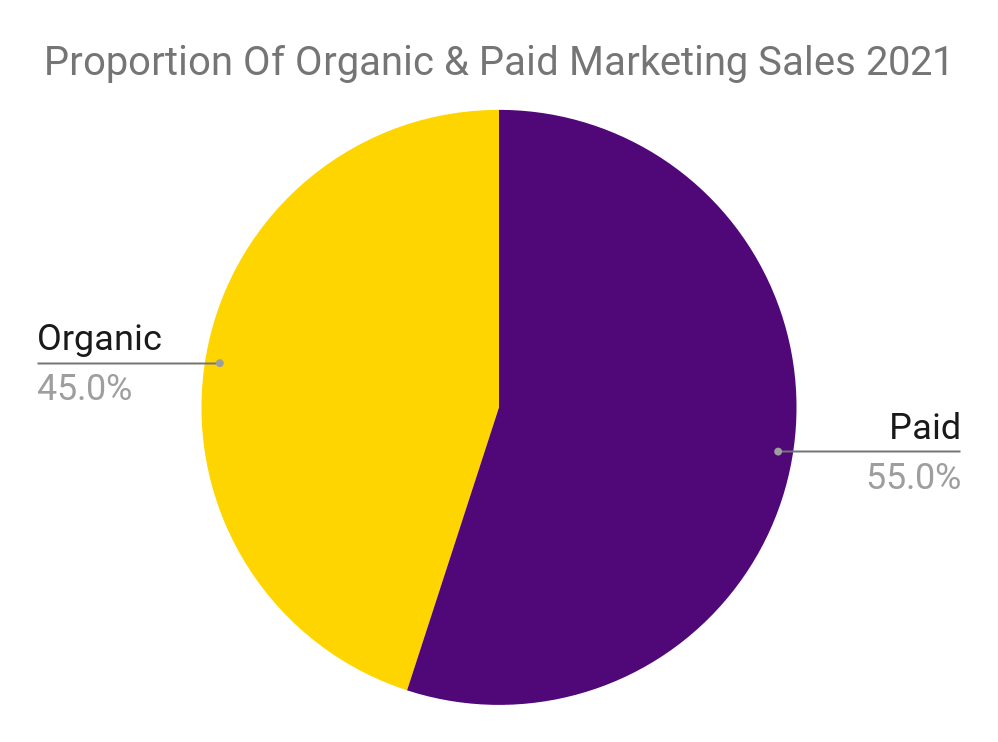 "The MMM will be an integral part of both our reporting but also our planning as we move forward.
Trusting the model will be crucial as we are heading to a future where privacy is of peak importance and cookies will be a thing of the past.
The MMM allows us to make the most out of this new reality while becoming even better – enabling us to look at the bigger picture. One where we not only see the impact of all channels online and offline, but also incorporate external factors that have grown in importance over the last years.
With this new model we can be more efficient in our budget allocation between channels and in the funnel. It will also give us a clearer picture of the importance of marketing in all stages of our business."